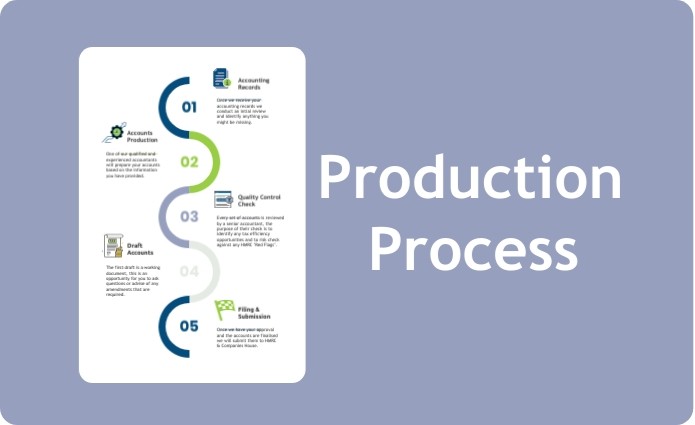 Helpbox Accounts Production Process
Helpbox Accounts Production Process
Managing accounting records and ensuring accurate financial reporting can be a daunting task for businesses of all sizes. However, at Helpbox, we have developed a robust accounts production process that aims to simplify the procedure while optimizing tax efficiency. Let's take a closer look at the key steps involved in our streamlined approach.
Simplified Process: Our streamlined approach simplifies the entire accounts production process, making it easier for businesses to manage their financial reporting.
Tax Efficiency: Our qualified accountants are experienced in structuring accounts in the most tax-efficient way possible. We aim to ensure that you take advantage of all applicable tax deductions, minimizing your tax burden.
Expert Insights: With former HMRC employees on our team, we bring valuable insights into the process. This helps us identify potential risks and address them proactively, reducing the likelihood of triggering investigations from HMRC.
Accuracy and Compliance: We prioritise accuracy and compliance with accounting standards and regulatory requirements. Our thorough reviews and quality control measures ensure reliable financial statements that meet the necessary guidelines.
Collaboration and Amendments: We encourage collaboration with our clients by providing a working draft of the accounts. This allows you to ask questions, provide feedback, and suggest any required amendments, ensuring that the final accounts accurately reflect your business's financial position.
Timely Submission: We take the responsibility of submitting the finalized accounts to HMRC and Companies House on your behalf, ensuring that the filing process is completed accurately and in a timely manner.
Maximizing Deductions: Our team actively looks for tax deductibles that you might have missed, helping you benefit from all available tax savings and reducing your overall tax liability.